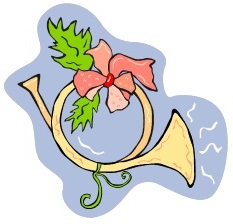 Christmas Dinner and Concert

Sunday, December 17, 2017

Dinner at 6:00pm, Concert at 7:15
Dinner tickets: $15 (not required for concert)
(turkey dinner with all the trimmings.
Gluten-free dinners available - please call ahead).

"A Hallelujah Christmas"

with musical guests
Frontenac Concert Band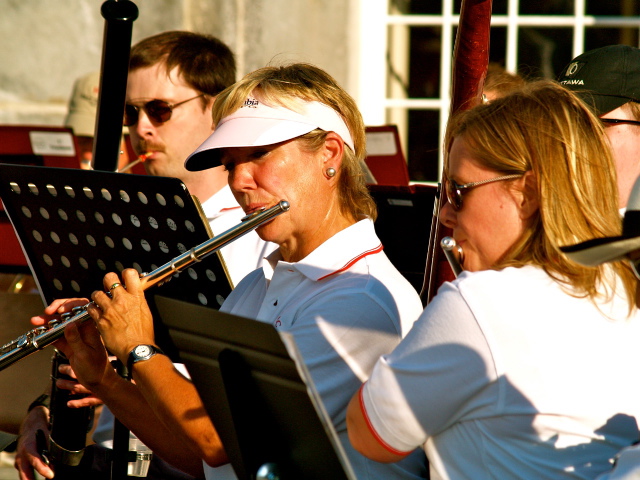 freewill offering towards the Kingston Youth Arts Co-operative (KYAC)

(KYAC is a local non-profit that enables area children to participate in free performing arts and fine arts programming. They rehearse and create weekly at Crossroads.)


---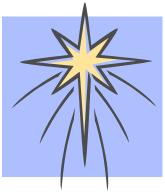 Advent Study

Because of Bethlehem
- a four session video and discussion series
free coffee and muffins served

Sunday Nov. 26, Dec 3, 10 & 17, 2017
9 - 10am

---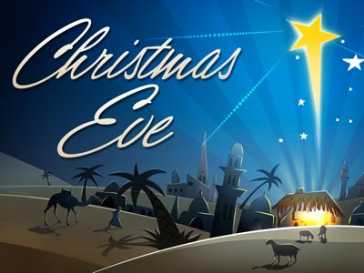 Christmas eve family service
Sunday December 24, 2017 @6:30pm
A mixture of carols, lessons and music. It wraps up with a Christmas pageant in which all who wish to participate (young or old) get a role to play, with costumes provided!

---

Next steps for Crossroads - calling a new minister

With the retirement of Rev. Bill at the end of June, 2017, Crossroads has begun the process to call a new minister. That process started with the formation of a committee called a JNAC (Joint Needs Assessment Committee) to put together a report outlining the priorities for the pastoral needs of the congregation. This report was approved by the congregation on June 4, 2017 and subsequently approved by our overseeing body, Four Winds Presbytery. At the congregational meeting, a Joint Search Committee was elected, and the committee began its search. After advertising from July to October, interviews were conducted in October and November 2017.

December 2017 Update
At a congregational meeting on Sunday, December 10, 2017 the Crossroads congregation approved the recommendation of the Joint Search Committee to call to Crossroads Rev. Judith Evenden, with her ministerial call to begin by July 1, 2018. Rev. Evenden is currently concluding an interim ministry at Zion-Memorial United Church in Carlton Place, Ontario. We look forward to Rev. Evenden joining us.

Until our new called minister arrives, Crossroads has recruited Rev. Elizabeth Foster to lead us. Elizabeth is a recently retired United Church minister who now lives in Kingston with her husband Glenn. She has been in ministry since 1997, first at St. Matthew's United church, then at the Rideau Pastoral Charge (consisting of Burridge, Newboro and Westport UC). She has experience serving churches in transition, having served Glenburnie United Church in 2012, Westbrook UC in 2013 and Princess Street United Church in 2014. Elizabeth will be working with us on a half-time basis, with her primary responsibilty for Sunday worship, with some pastoral care and administrative duties. We are pleased that Elizabeth has agreed to join us at this interim time, and we look forward to a fruitful time together.

---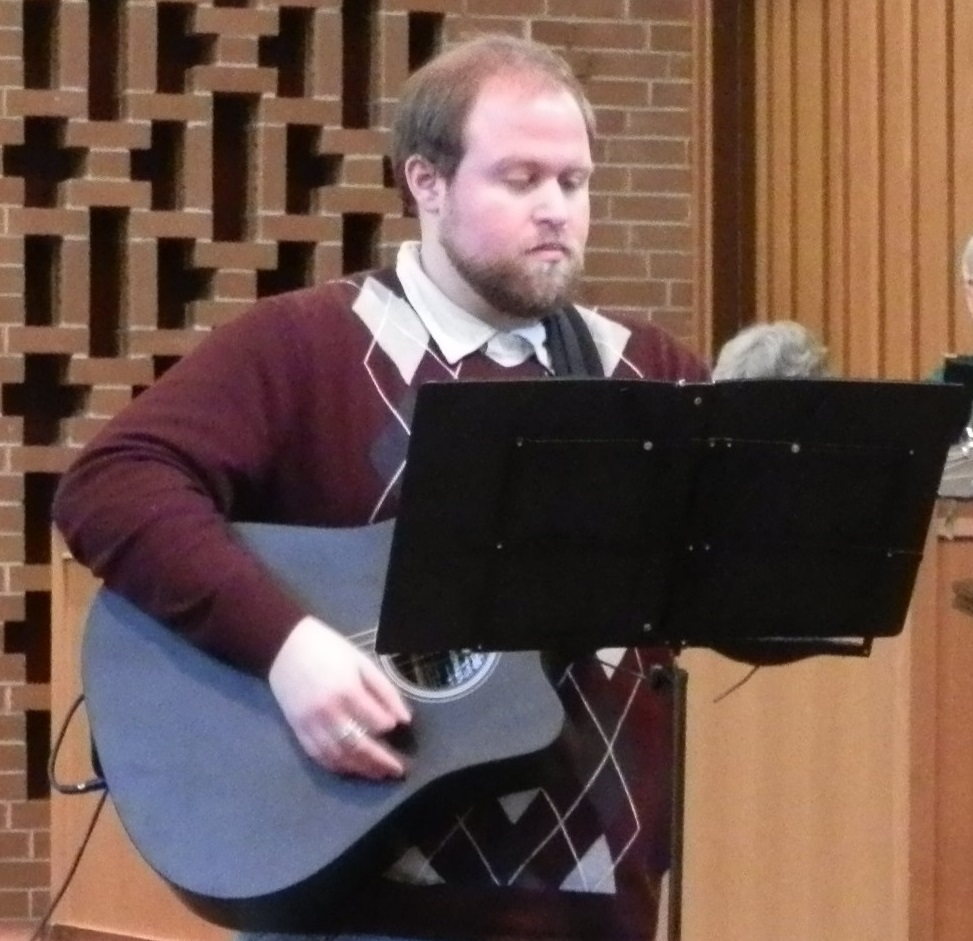 New Sounds in Worship
Come join us as we make our 10:30am Sunday worship accessible to all ages with an approachable contemporary style. Our alternative music ensemble features Tyson Sullivan and Cam Moses on acoustic guitar joined by woodwinds, and keyboard.

Look for our next appearance in January 2018

Warm-up music starts at 10:20am


If you're an instrumentalist, why not consider joining our group?
Contact Allan (ab25@queensu.ca)


---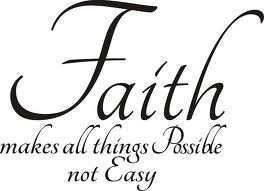 Grow your faith!
Would you like to enhance your faith journey?
Why not try the

Crossroads Bible Study group
(Tuesdays at 9:30) or the
Crossroads Prayer Group
(Thursdays at 10:30)

for a friendly, relaxed atmosphere that gives the chance for you to grow in your faith.

---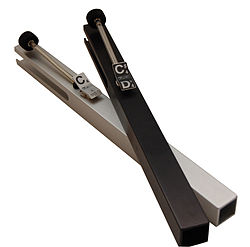 Music Notes
Click the speaker icon to hear the Chancel Chimes!
_________________________

Music featured on Sun Dec. 10, 2017
"Came He Not in Fire" (chimes and choir)



"Longing for the Light, We Wait in Darkness" (Bernadette Farrell, ©1993)
with flute soloist Susan Lew



"One Light, One Sun" (Raffi, ©1985)



Two Sonatas by Corelli played by the Dolce Trio
(Susan Lew, flute; Josh Lewis, violin; Frank Lewis, piano)



_________________________

(Archive)
Hand chimes featured in worship at Crossroads

Sunday, December 18, 2016 - "Still, Still, Still"

Sunday, March 6, 2016 - "Let All Mortal Flesh Keep Silence"

Sunday, May 1, 2016 - "Simple Gifts"

Choir Anthems
Sunday May 8, 2016 - "Love Alone Unites Us" (Ron Klusmeier ©1990)

---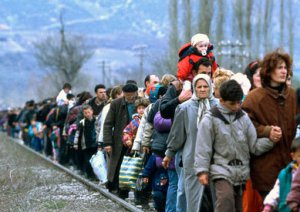 Refugee News

Crossroads is a partner in the West Kingston Refugee Partnership (WKRP). Our church is working with the Islamic Centre of Kingston and Edith Rankin, St. Andrew's-by-the-lake, Cataraqui, and Cooke's-Portsmouth United Churches to help bring at least two refugee families to Kingston and to raise funds and provide support as they establish themselves in our community. The first refugee family has now arrived in Kingston in early 2016

Click here for more news on this project.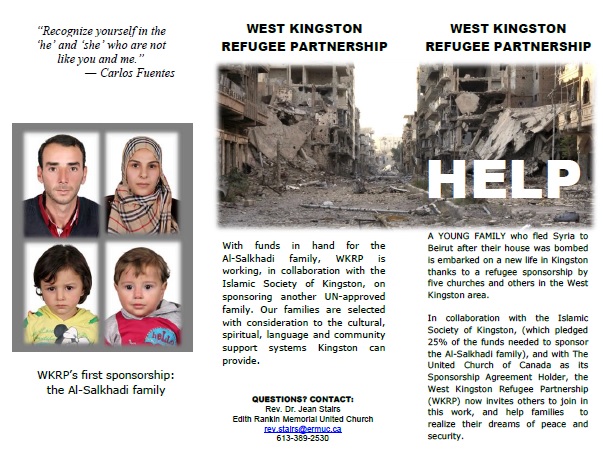 click here for brochure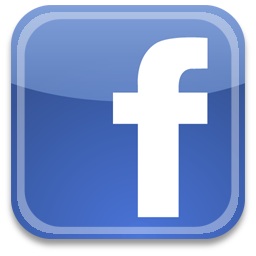 Follow us on Facebook
---
SUNDAY WORSHIP:
10:30 a.m.


wheelchair accessible



hearing assistance available

Youth Worship classes and
Nursery Care
For details click here

---


New worship songs from Crossroads
View and listen to original hymns/songs and lyrics heard from time to time in our worship

---
Click below if you:


---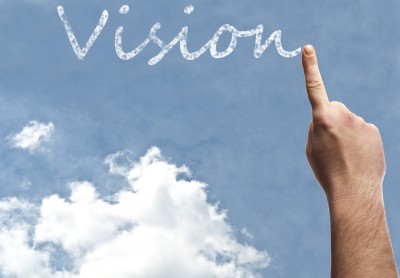 Final Report of the Visioning Group
Click here for details
---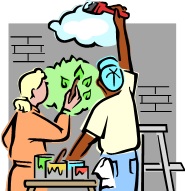 Volunteer opportun- ities at Crossroads
Click here for info
---

photo tour of the church
---
About the season:
Advent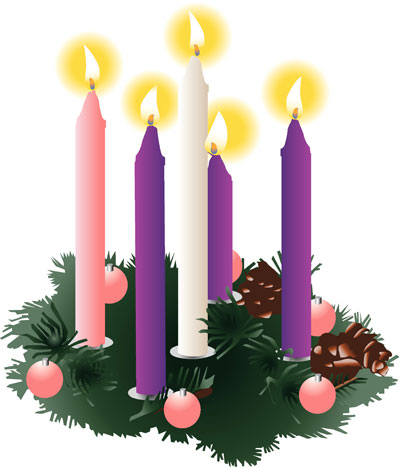 When: Starts Dec. 3 in 2017 (four Sundays before Christmas) and runs until Christmas Day.
Colour: Blue
Meaning: "Advent" means "coming" as we await the coming of Jesus (the Word made flesh) into the world at Christmas.
Symbols: Hope and waiting are the themes of this season. Each Sunday a different candle is lit, corresponding with hope, peace, joy and love. Sometimes purple (the colour of royalty, but also of asking forgiveness) is used for each candle; recently, blue (representing Mary, who waits with us for her baby's arrival) has become more common. The third Sunday uses a different colour - pink, representing joy. On Christmas or Christmas eve, the Christ candle (the white one in the middle) is lit.

---
---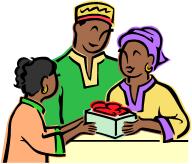 Does your group need financial assistance?
click here!
to find out how our
outreach committee
can help.

---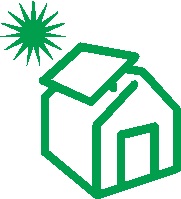 Green at Cross- roads
click here to find out more about green initiatives at Crossroads, including our 10kW solar array as we live out our commitment to "Live with respect in Creation"