Crossroads United Church - AMALGAMATION DECISIONS
Return to Home Page
Our new name - rationale: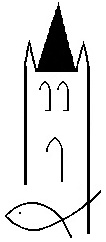 At so many points in our lives, we reach a crossroads and the decision of which road to choose can be painful and difficult. At those points especially, we need to feel the guiding, healing presence of God in our lives.

As the hands and feet of Christ in the world, the church reaches out to those who are at a crossroads and we, the church, can be the light to show the way. The church needs to be at the crossroads to help be that light for the world.

Both congregations were at a crossroads before amalgamation and had the choice of several paths. Joining together was the one chosen. The name represents our more modern future rather than anything from the past. Coincidentally, the building that had been used by the St. Margaretís congregation is located at the crossroads of two of Kingstonís most significant east/west and north/south arteries, slicing through the entire city.
---
On October 4, 2009, when we voted for our new name, we also adopted the following Purpose statement (as amended):


Crossroads United Church, as a congregation of the United Church of Canada, is a welcoming and supportive community of Christians that gathers to worship, seeks spiritual growth and humbly works to advance Godís justice in the world.


CLICK HERE to view the full purpose (unamended version) and mission statements

More Background on amalgamation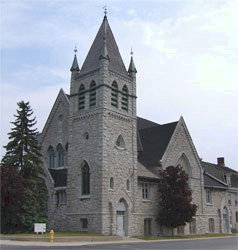 After months of meetings by committees of both churches, the congregations of Queen St. United (see picture at left) and St. Margaret's United began worshipping together in the St. Margaret's sanctuary on Nov. 23, 2008. On Sunday, May 31, 2009, the congregations of St. Margaret's United and Queen St. United, in separate votes, voted in favour of the following motion:

"Moved that St. Margaret's/Queen St. United Church, called to God's purpose, commits to undertake with Queen St./St. Margaret's United Church the next steps, including developing a vision, mission, and a new name, for an amalgamated congregation."
A new joint amalgamation committee was formed to proceed with the next steps involved in making a formal amalgamation a reality.

With the formal completion of amalgamation on January 1, 2010, the ministers, music directors and other staff of both churches continued in their roles, now serving the combined Crossroads congregation. A Joint Needs Assessment Committee (JNAC) was struck to consider the staffing needs of the new congregation. Revs. Laurie McKnight-Walker and Nadene Grieve-Deslippe left for calls from other congregations (in Ottawa and Kingston, respectively) and a new minister, Rev. Bill McAuslan was called to Crossroads. The Queen St. site was subsequently sold.